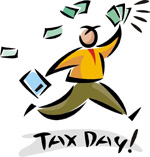 Outsource Tax Return Preparation to India

Outsourcing tax preparation services offshore, particularly to India, began about five years ago and has grown at a phenomenal rate. The tax return outsourcing business has dramatically changed and expanded beyond the client to tax preparers and now, to back-office outsource processing.

More and more CPA and accounting firms are opting to outsourcing tax return to India to help minimize operating costs and maximize efficiency and gain competitive advantages.

We provide tax return outsourcing services using leading tax software like Lacerte, Creative Solutions, ProSeries, Drake, ATX, Pro Systems or any other tax software that you work with. Tax Compliance during the busy season becomes easy to manage with our back-office tax support.
Federal & State Income Taxes

Taxes are applicable for Individuals (salaried or self employed), Corporations (small, mid-size, or large businesses), Trusts, Descendants' Estates and certain bankruptcy Estates.

In USA, Federal income tax is collected by the Internal Revenue Service (IRS), a branch of United States Treasury. One must pay federal income tax regardless of where one lives in the United States. Also, most states also have additional state income tax.

However, states like Texas, Florida, Nevada, Washington, Wyoming, South Dakota and Alaska do not have state income tax. Tennessee and New Hampshire only apply state income tax to interest and dividend income. However, each state collects taxes in one way or another.
Our Tax Return Preparation Services

We offer outsourced tax return preparation services for the following entities:


OUTSOURCED TAX RETURN PREPARATION SERVICES
Type Of Entity
Individuals
Corporations
Fiduciaries
Non-Profits
Single,
Married Filing Jointly,
Married Filing Separately,
Head of Household,
Qualifying Widower,
Non-Resident
Partnership
LLC
S Corporation
C Corporation
Tax Forms
Form 1040, 1040A, 1040EZ, 1040NR, 1040NR-EZ, 1040X
Form 1065, 1120, 1120S
Form 1041
Form 990

Other Tax Forms
Form #
Description
Form 706
U.S. Estate Tax Return
Form 709
U.S. Gift (and Generation-Skipping Transfer) Tax Return
Form 720
Quarterly Federal Excise Tax Return
Form 2290
Heavy Vehicle Use Tax Return
Form 5330
Return of Excise Taxes Related to Employee Benefit Plans
Form 940
Employer's Annual Federal Unemployment (FUTA) Tax Return
Form 941
Employer's Quarterly Federal Tax Return
Form W-2
Salary Information
Tax Preparation Software

Please check the various Tax Software that we work with for tax preparation including Federal and State Income Taxes for Individuals, Partnerships and Corporates.
Outsourced Tax Preparation Process

Please check the various Tax Prep Outsourcing Options that we have to help with your Tax Prep Outsourcing. Have difficulty understanding the outsourced tax prep process? Call us now Toll-free on 888-897-4039 and we will walk you through the various process options.

Tax Information Data Security : Our #1 Priority

We are committed to total integrity and confidentiality of customer information and have a comprehensive Security Policy to provide complete reassurance to our customers in this area of taxation outsourcing services. Please check our Data Security Policy for more information.

Tax Preparation Outsourcing : Free Trial Offer

We offer a FREE pilot to all American CPAs and EAs to test our Tax Preparation Process and capabilities. Please contact us to try this offer.

Why Choose Us : Our Differentiators

Here are the top 10 reasons to outsource your tax preparation to us. If you're still not convinced, read the detailed descriptions on how to benefit from using our services. Plain and simple, we offer higher quality tax preparation outsourcing, make it fast by working in the night, and are cost effective.
Significant Accounting + Tax Domain Expertise.
Multi-Tax software support. (Software We Support)
Total Commitment to Client Data Privacy. (Our Security Policy)
Savings of 40-50% in Tax Preparation costs.
Continuous Work Cycle: Overnight Turnover. (Process Options)
Tax Research Subscription: To Keep Updated with Tax Laws.
We Focus : Accounting + Taxes is all that we do.
Online Client Extranet: Seamless Workflow Process.
ISO 9001:2000 Certified Processes.
24x7 Outsourcing Facility. Prompt Customer Support.
Managed Tax Preparation with us is cost efficient. You get a dedicated team for similar or less than what it would normally cost to hire one in-house employee. Our teams comprise of an Indian CPA Manager, Tax Preparation Specialist and a Customer Support Contact who are trained and experienced at providing Managed Tax Preparation services. Your team is only a phone call, instant message, or e-mail away to provide prompt and accurate service.